Chrysalis
Biographical Information
Real Name
Debra Jo Jory
Aliases
Chrysalis
Gender
Female
Class
Joker
Wild Card Traits
Transparent skin and flesh
Social Information
Place of Birth
Oklahoma, USA
Citizenship
Citizen of the United States, deceased
Occupation
Proprietress of the Crystal Palace, information broker
Event Participant
1987 WHO Tour
Base of Operations
Crystal Palace, Jokertown
Allies
Charles Dutton, Elmo, Fortunato, Jube the Walrus, Mother, Sascha Starfin, Yeoman
Origin
First Appearance
Wild Cards
Creator
John J. Miller
Chrysalis is a fictional character from the Wild Cards series of books. She was the business partner of Charles Dutton. Together they owned the Crystal Palace, with Chrysalis owning two thirds of the business.
She had the unofficial role of keeper of the secrets of Jokertown.
History
[
]
Originally from Oklahoma, Chrysalis relocated to Jokertown in the mid-70's and became majority owner of the Crystal Palace. The establishment gave her a good platform from which to network, leading to her becoming Jokertown's most notable information broker.
She had a romantic relationship with Yeoman until 1987. The relationship failed when she took on additional lovers and could not bring herself to admit that she loved Brennan.
In 1987 Chrysalis took part in the WHO-sponsored world tour. Her tour took a turn for the worse in Haiti when she, Digger Downs, and Dorian Wilde, were kidnapped by the head of Haiti's secret police on a trip from Port-au-Prince. She escaped from her captors shortly thereafter when the group was ambushed by a dissident faction operating against the secret police, then found herself siding with the newcomers, and eventually aiding them in freeing the remaining kidnapped pair.
Chrysalis was later murdered by Hiram Worchester after her return to New York .
Appearance
[
]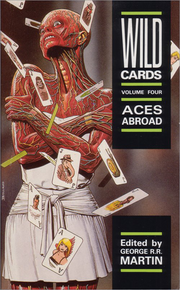 Chrysalis was a joker with a distinctive appearance. Her flesh and skin were completely transparent, displaying the organs, bone and blood beneath.
Personality
[
]
Chrysalis was a shrewd and guarded businesswoman. She kept many secrets and traded them for the right price. She affected an air of culture, pretending to be British, even down to adopting a high class British accent. She would also gain satisfaction from putting others on edge, and frequently wore revealing clothing to accentuate her mutation.
Selected Reading
[
]